How to Build a Portfolio to Land you a 3D Job
The most important part of getting a job in 3D is your portfolio. In this article, we're covering everything you need to know to get started with making a killer portfolio.
The Key to a Good Portfolio
The work is of high quality
It shows relevant skills for the job you want
The portfolio itself is easy to navigate and is well presented
What is a 3D Portfolio?
A portfolio is a collection of work you want to show to studios. Some positions require show reels and others prefer images. For nearly everything in film and VFX, a reel is recommended. A reel is a video that is usually 1-3 minutes long, showing your best work. Other fields, such as illustration and concept art prefer still images.

Clicker from on The Last of Us. Learn how we textured it here

Creating a Killer Portfolio to Get Jobs
Your portfolio is the most helpful tool you have in your career. A professional portfolio is here to land you a job. That's it. You're not making it to impress your family, get to the front-page of ArtStation or get tons of Likes.
Before doing any work on the portfolio, you need to figure out what position you want. Do you want to be an animator, modeller, lighter, concept artist or generalist? Your portfolio should both show a high level of skill and also that you understand what's required of the role.
Building a Fully Focused Portfolio
Before you start building your portfolio, talk to artists who currently have the job you want. They'll have a good idea of what kind of portfolio you should build. By skipping the step, you're working blind and you'll end up building the wrong kind of portfolio. Contacting relevant artists on LinkedIn with a short and polite message is a good starting point
Tailor Your Portfolio to your Dream Job
Amy Smith, Head of Recruitment at Framestore, has this to share:
"A lot of students will apply to film VFX, artistic advertising and feature animation companies all at the same time when they graduate. However, the needs of all of those different industries in terms of demonstrable skill set are quite different. Just as someone might have a different cover letter for each employer I often suggest that they may want to consider having a different reel depending on who they are applying to - one reel doesn't necessarily fit all."
Retopology screenshot from Realistic Character Portrait Masterclass
Understand your Competition
As a student, you need to understand your competition, which goes beyond your class.
Amy Smith goes on to say:
"I always advise students to understand the competition. We get sent a lot of reels from graduates who have done exceptionally well in their studies and then are surprised when industry tells them that their work isn't quite up to scratch yet.

Generally this happens because they have only compared themselves to their immediate peers and received feedback from their tutors and haven't looked into who the wider competition might be or sought feedback more widely. It is so easy on Vimeo or LinkedIn to look up 'Junior X' and start looking at people's reels - I just don't understand why you wouldn't! How can you try and win a competition if you don't even know what competition you've entered?"
Remove Weak Work
Never put anything in your portfolio that you aren't ready to defend in an interview. In an interview, they'll review your portfolio. You have to be sure that you can stand behind your work. A good rule of thumb is to always have a maximum of 4-5 pieces in your portfolio. If you add a new one, remove an old one. This forces you to always remove your weakest pieces.
Art Foundations
If you have a foundation in art, like sculpting, photography, drawing, oil painting, etc., it's a great idea to put this in a portfolio. Technical skills can change fast, while art fundamentals are always important. It's a lot easier to teach somebody how to use ZBrush, than it is to teach them to sculpt.
Avoid Rookie Mistakes for Demo Reels
Music
Most recruiters will turn off the audio when reviewing reels. If you add music, never edit to the beat, and keep the flow of shots simple.
Start With Your Best Work
When reviewing reels, they may watch only the beginning and turn it off if it doesn't seem interesting.
Keep it Short
Keep the reel between 1-3 minutes. Never add filler content. It's easier to make a short reel, and it's also easier to review your work.
Remove All Weak Work
You're only as strong as your weakest piece. If the quality of your work is up and down, recruiters may wonder why certain pieces are a lot better than others. Ask industry professionals for an honest review of your work and remove bad work without mercy.
Keep it Varied
The demo reel should show variation. It's a waste of time to have two pieces that show the same skill-set. Figure out what the skills are needed for a junior position and build your portfolio around this.
Add Your Email
Your email needs to be easy to find. Put it in the reel with big letters and embed it on all your images.
Reel Breakdown
Include a written demo reel breakdown. Write exactly what you did for each shot of your reel. It's not necessary to credit everyone involved, simply say what you did. Add the breakdown as a separate PDF and in the video description.
Make it Pretty
A well made reel will be a lot more comfortable to watch than one which was edited in an evening. Render well-lit turntables and shots of your work and make them beautiful.
Along the way, make work-in-progress versions of your reel. This allows you to get proper feedback on not just the content, but also on the presentation. Some people even previz their reel.
CV/Resume
The CV is a written document stating all relevant professional experience and relevant education. Keep it simple and to one page. Never include experience before university and only add relevant work experience. If you don't have much experience, keep it simple and let your portfolio do the talking.
CV Template
The template would be something along these lines
NAME & CONTACT INFORMATION
[Name] [Portfolio Link] [Email]
SUMMARY
Who you are and what you do. What makes you special? Tell them what position you want. Is it clear exactly what your role is?
EXPERIENCE
[ Year] - [Year] - Position at [Company] - [What you did for Company] [ Year] - [Year] - Position at [Different Company] - [What you did for Company]
Don't list everything you've ever done. Keep the list short and sweet with only relevant experience.
EDUCATION
2021- 2023 - [Degree] at [School]
SOFTWARE
[Software 1]
[Software 2 ]
Only list software you're comfortable using. It's not necessary to add the skill level, as nobody knows what this means anyway.
Winged Bear Goat - Michelle Tolo
Cover Letters
A cover letter is a short letter you send to recruiters when you're applying for a job. You should list why you're a good candidate. Write a unique cover letter to the company you're applying to, as it's more personal. Before sending it off, proofread it! Use Grammarly or similar tools to check the grammar and spelling.
Keep your cover letter simple, usually between 150-250 words.
LinkedIn
LinkedIn is a useful service when you're looking for jobs. It's your online CV. You can connect with other students and industry professionals. Build a profile, including your past professional experiences, education, and other achievements. It's also a good place to ask professionals for feedback. I'd highly recommend asking for feedback and advice either through LinkedIn or by email.
Once you have a profile set up, connect with various recruiters from the companies you're interested in. Don't worry, recruiters never mind when you connect. They usually post jobs on LinkedIn before they are posted on their website, so it's a great way to stay updated on available jobs.
LinkedIn is also great for when you meet recruiters at events, as you can easily generate a QR code using LinkedIn app, which they can scan. No more fumbling around with business cards or your name being misheard.
Portfolio Hosting
Reels
For reels, Vimeo is great as you can keep updating the video file and password-protect it, should you have work under NDA.
Images
ArtStation is a great place to use as your portfolio hub. Everyone knows how to navigate it, and it's easy to find your contact info. Make sure your email is public.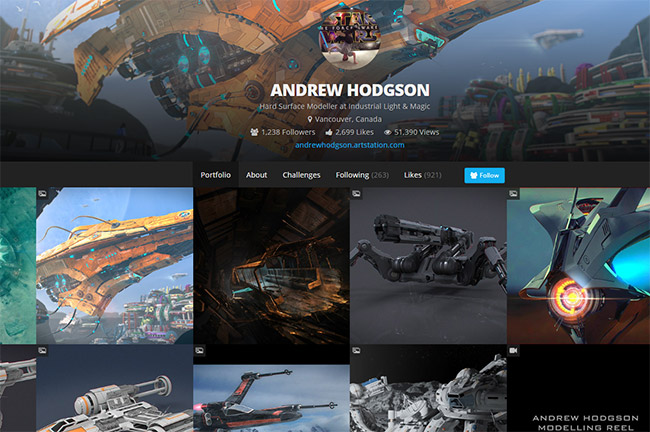 Here's a great example of a good ArtStation portfolio by Andrew Hodgson.
You Own Website
Building your own website is usually a waste of time and money when you're starting your career. Spend your time building a portfolio instead of a custom website. Chances are that your website is much harder to use than a standard system like ArtStation, and it will have a lot more downtime.
Conclusion
Building a proper portfolio or showreel is one of the most important things you'll do as a student. You need to develop a set of marketable skills as opposed to work that gets you a ton of 'likes'. A big thanks to Amy Smith from Framestore for her excellent help with writing this article!
We have a lot of amazing tutorials on FlippedNormals and on our YouTube Channel to help you get the skills to build an amazing portfolio!
FlippedNormals Products to Improve your Portfolio